Edward D. Burke Jr, Esq.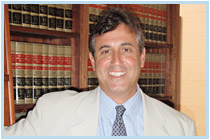 Edward D. Burke, Jr. is a graduate of both Providence College (Bachelor of Arts in Business and Political Science) and St John's University Law School (Juris Doctorate). After graduation from Law School, Mr. Burke spent seven years as a Prosecutor with the Suffolk County District Attorney's Office with several convictions with The Major Crime Bureau. He entered private law practice in 1996 with his father Edward, Sr. (at that time a New York State Court of Claims Judge and Southampton Town Justice).
In 2005 he opened his own practice, Edward Burke, Jr. &Associates, LLC, located in Sag Harbor, NY. The firm specializes in criminal defense, negligence, real estate and zoning law. During his time in private practice Mr. Burke has been involved in high profile cases, as well as several high verdict negligence cases.
As an active member of the community, Mr. Burke was honored in 2004 by the Independent Group Housing League of Suffolk County, which assists developmentally handicapped children. He is a member of the New York State Bar Association, the Suffolk County Bar Association, the Suffolk County Criminal Bar Association, as well as various community organizations such as The Elks, Sag Harbor Knights of Columbus, Noyac Civic Council, and the Sag Harbor Chamber of Commerce. He is counsel to both the North Sea and Sag Harbor Volunteer Fire Departments, as well as counsel to The Hamptons Collegiate Baseball League.
Mr. Burke and his wife, Patricia, live in Sag Harbor, New York with their three sons, Matthew, Edward and Brendan.