John J. Pappalardo, Esq.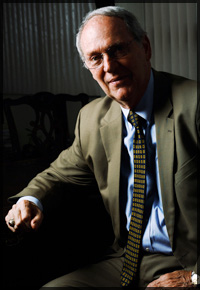 email: johnj@pappalardolaw.com
John J. Pappalardo is the senior and founding partner of Pappalardo & Pappalardo, LLP. Mr. Pappalardo established a private law practice in the Town Of Eastchester, NY more than 40 years ago. This private practice was the predecessor to Pappalardo & Pappalardo, LLP.
Mr. Pappalardo was appointed as an Assistant District Attorney by Carl A. Vergari, District Attornery of Westchester County. He was assigned to The Felony Trial Bureau where, during his tenure, he prosecuted numerous cases. After leaving the DA's Office, Mr. Pappalardo established his private practice of law. This practice was concentrated in criminal defense including major felonies. Mr. Pappalardo tried his first murder case in 1973 which resulted in an acquittal. Subsequently he went on to try numerous misdemeanor and felony case. This concentration on criminal defense work remains a part of the firm to this day.
Mr. Pappalardo also served 14 years in a part time capacity as Village Attorney and Prosecutor for the Village of Tuckahoe. He was an adjunct professor at Bronx Community College, where he taught Criminal Law.
Mr. Pappalardo also focuses his practice on residential real estate transactions.
Mr. Pappalardo graduated from The George Washington University and St. John's University School of Law. He is a member of The New York State Bar Association, The Westchester County Bar Association and The Columbian Lawyers Association. He has been married for 43 years to his wife, Donna, has two sons and five grandchildren. He was raised in The Town of Eastchester where he still resides today.