The Trial of Harvey Weinstein – What Really Happened?
February 26, 2020
Harvey Weinstein was at the top of his game as a Hollywood producer when women began making accusations. Specifically, they allege he committed sexual harassment and sexual offenses. Then, on May 25, 2018, he was arrested in Manhattan and charged with sexual offenses. A jury returned a verdict on February 24, 2020.
With all the allegations against him, it's hard to understand what Harvey Weinstein was charged with. And it's also unclear what he was actually convicted of. Here, we discuss the criminal charges in his New York case and discuss the prison sentence he may face.
Which Charges Was Harvey Weinstein Facing?
According to WebCriminal.com, Harvey Weinstein faced a six-count indictment in Manhattan. It's unclear from WebCriminal.com whether all six counts were submitted to the jury for consideration. From various news sources, it appears only five counts were submitted. He was charged with:
two counts of Predatory Sexual Assault
one count of Rape in the First Degree
two counts of Criminal Sexual Act in the First Degree
one count of Rape in the Third Degree
Most sexual offenses are defined in Article 130 of the Penal Law. Harvey Weinstein was accused of forcing sexual intercourse and oral sexual conduct, and engaging in sexual intercourse without consent. Because it was alleged he had assaulted more than one person, he was also charged with Predatory Sexual Assault.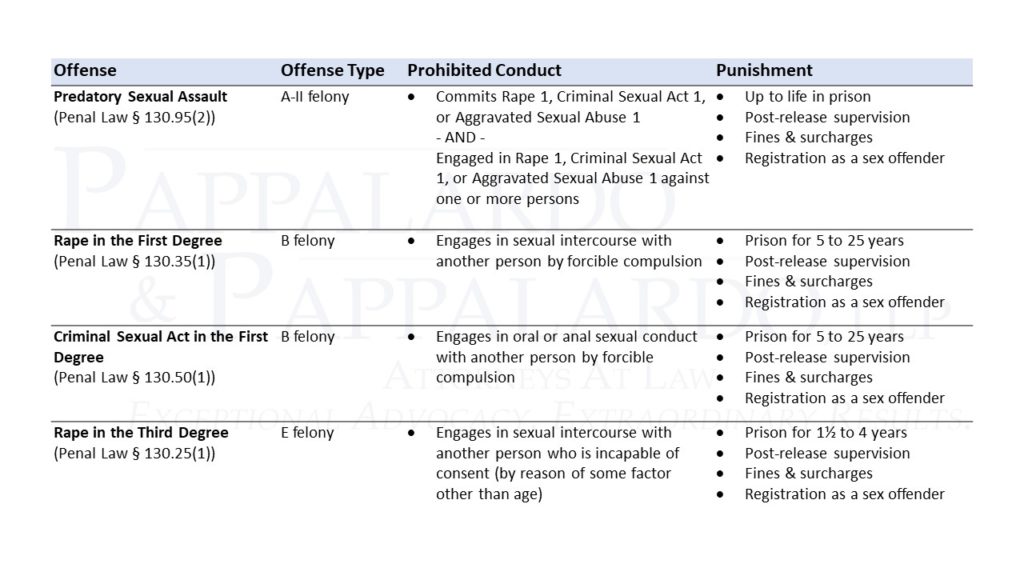 What Happened at Trial?
At trial, it has been reported that six women testified against Harvey Weinstein. His defense was that the women had consented to the sexual intercourse and sexual contact to further their careers. He claimed that they had only come forward with their accusations because other women had accused him of sexual assault and harassment.
After trial, he was found guilty of one count of Criminal Sexual Act in the First Degree and Rape in the Third Degree. The jury determined that he forced oral sexual conduct with one of his victims. They also determined that he engaged in sexual intercourse with one of his victims without her consent.
How Much Time May Harvey Weinstein Serve?
After the jury returned its verdict, Harvey Weinstein was remanded to jail pending sentence. As of today, his sentencing is scheduled for March 11, 2020.
For the top count of Criminal Sexual Act in the First Degree, Harvey Weinstein faces a minimum of 5 years in prison and a maximum of 25 years. In addition to prison time, he will have to be on post-release supervision (also called parole) for up to 20 years. He will have to abide by strict conditions applied to persons convicted of sex offenses. He will further have to register as a sex offender.
Update: On March 11, 2020, Harvey Weinstein was sentenced to 23 years in prison, followed by a term of five years' post-release supervision.