Licensing of Multiple DWI Offenders by the New York DMV
June 26, 2019
As of October 2012, the New York Department of Motor Vehicles (DMV) began applying certain rules to persons with multiple convictions or incidents involving alcohol- or drugged-driving. As such, licensing may be an issue for those with several prior convictions or incidents.
What Is a Multiple Offender, and What Are the Penalties?
To begin, all convictions for Driving While Intoxicated (DWI), Driving While Ability Impaired (DWAI) by Alcohol, and DWAI Drugs include a mandatory suspension or revocation period. These periods last for as little as 90 days but can last for up to a year.
For anyone with prior alcohol- or drugged-driving related convictions or incidents, re-licensing is considered a privilege and not a right. As such, the DMV's Driver Improvement Bureau may deny their application using the following guidelines.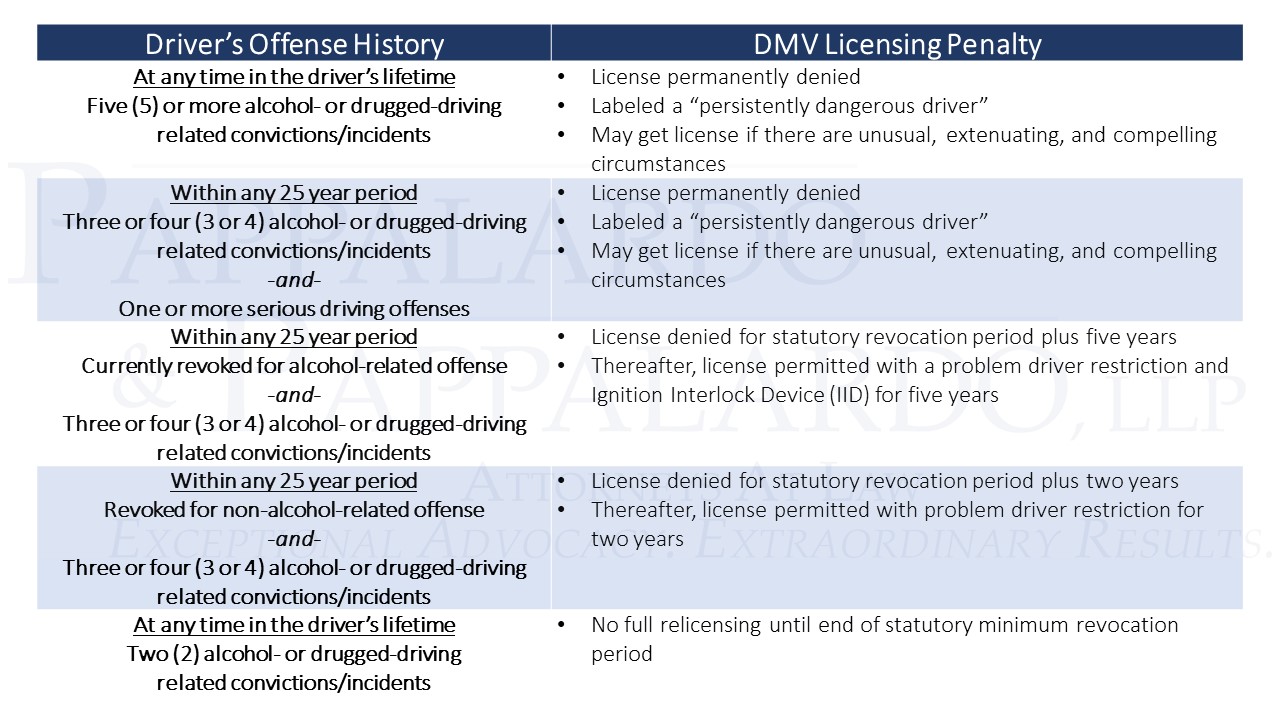 What Is a Conviction or Incident?
The DMV will count each DWAI or DWI as a conviction. However, if there was also a chemical test refusal finding, then that will also count as an incident. And note that a chemical test refusal finding can even remain if the driver was acquitted of the related criminal charge.
The DMV will also consider, in some circumstances, whether the applicant has a "serious driving offense" on their record. For example, this can be a fatal accident, a driving-related Penal Law conviction, conviction of two or more 5+ point tickets, or 20 or more points from any violations.
What Is the Problem Driver Restriction?
If the DMV applies the problem driver restriction, that person can only drive in certain restricted situations. And these restricts will be to get to and from:
Place of work during hours of employment
Necessary medical appointments for driver or household member
Children's school or day-care (if necessary to maintain employment or attend school)
Accredited schools, colleges, universities, or training institutions
DMV locations
The problem driver restriction will be issued by the DMV as a document detailing the restrictions, and the driver must carry it with them whenever they are operating a motor vehicle.
What Are Unusual, Extenuating, and Compelling Circumstances?
Many, if not most, applications for re-licensing under the unusual, extenuating, and compelling circumstances exception are denied by the DMV. Further, there is also little caselaw demonstrating what the DMV and reviewing courts consider to warrant the exception.
Merely stating the applicant needs to drive for work is not sufficient. Third party evidence must be included. Can you get to work without a license? Will you lose your job, or are you missing a job opportunity? Are you unable to get to doctor's appointments? Is your child unable to get to school? Letters and documents demonstrating these issues may help your application.
Above all, public safety is the primary concern of the DMV. Thus, showing that the applicant has taken driver improvement programs and has a plan to avoid future drug or alcohol abuse is imperative. Any treatment records, particularly providers certified by the Office of Alcoholism and Substance Abuse Services, may be helpful. Above all, the goal is to demonstrate that the applicant is no longer a danger to the community.
References:
New York State Department of Motor Vehicles, Penalties for Multiple Offenders. Available at: https://dmv.ny.gov/tickets/penalties-multiple-offenders (last accessed June 20, 2019).
15 NYCRR 3.2(c)(4), 132.1, 132.2, 132.3, 137.4(a)(8), 134.7(a)(11)(i), 134.10(b), 134.11, 136.1(b)(3), 136.4(b), 136.4(b-1), 136.5, 136.10,