September is Suicide Prevention Awareness Month
September 21, 2021
Suicide is a crime in some parts of the world. While it is not criminalized in New York, it is still marked by stigma and taboo. Unfortunately, many people involved in the criminal legal system attempt such self-harm or complete the act. This September, Suicide Prevention Awareness Month highlights the prevalence of suicidal acts and shares helpful information and resources.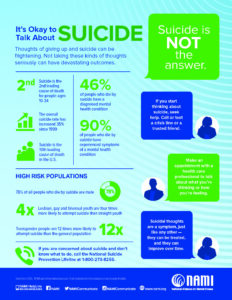 Suicide in the US
The rate of suicide in the US has increased by 35% since 1999. It is now the tenth leading cause of death, and it is the second leading cause of death for people aged 10-34. Nearly one in 20 adults have serious thoughts of suicidal acts. However, that rate is higher in young adults (11.8%) and high school students (18.8%).
Regarding gender, more than three-quarters of those who die by self-harm are male. Additionally, youths who are lesbian, gay, or bisexual have a rate four times that of individuals who are straight. And transgender adults are twelve times more likely to attempt suicidal acts.
As for its correlation with mental health, nearly half of people who complete suicide had been diagnosed with a mental health condition. For those who have died from self-harm, 90% experienced mental health symptoms.
Suicide and the Criminal Legal System
Survivors of crimes have a higher incidence of suicide. This includes victims of robberies, sex offenses, child or elder abuse, human trafficking, and other offenses. In particular, domestic violence is linked to suicide. Nearly one-quarter of survivors of intimate partner violence have attempted suicide, compared with 3% of those who have not been so victimized.
For people held in local jails, suicide is the leading cause of death. Why? Those who are in jail or prison experience a multitude of factors that increase their risk. For example, they may fear other inmates and their safety. They may also feel isolated or have lost contact with loved ones. Many in custody also feel guilt for their offenses. In a lot of cases, there is a concern that jails and prisons are not adequately addressing the mental health needs of inmates.
Prevalence Among Law Enforcement
Law enforcement, firefighters, and corrections officers are also disproportionally represented in suicide rates. They experience high rates of stress on the job, and they are impacted by shift work. In addition, they witness other people commit crimes and are often interacting with the traumatized victims of crimes.
Due to the job, they are at a higher risk for experiencing psychological repercussions. This includes post-traumatic stress disorder. Additionally, they are likely to experience burnout and apathy. Indeed, law enforcement are more likely to die by suicide than in the line of duty.
Suicide Prevention Resources
If you or someone you know is in crisis, call the National Suicide Prevention Lifeline at 800-273-TALK (8255). You can also text "GOT5" to 741741. For any life-threatening emergency, you can also call 911.
The New York State Office of Mental Health's Suicide Prevention Center provides additional resources for individuals, their loved ones, and survivors. Visit https://www.preventsuicideny.org/support-and-resources-for-individuals/ for more information.
References: