Additional 'Raise the Age' Changes In Effect As of October 1
October 1, 2019
In New York, crimes committed by juvenile offenders account for about 20% of all arrests. Two years ago, Governor Andrew Cuomo signed legislation approving reform known as "Raise the Age." The new laws direct misdemeanors to family court and create special youth courts for certain felonies.
As of October 1, 2019 the age of criminal responsibility in New York is now 18. And courts are bracing for even more kids to fill the state's youth courts.
What "Raise the Age" Legislation Changed
The way cases for 16- and 17-year-old juvenile offenders has changed, depending on the nature of the charges.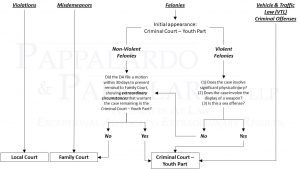 Click image to enlarge.
Further, any time a child is arrested, his or her parents must be notified. And any questioning by law enforcement must take place in an age-appropriate setting with parental involvement. In addition, the laws regarding the sealing of convictions for juvenile offenders have also been amended. Finally, youths will no longer be held in facilities with adults.
Early reports from the Governor's office indicate the changes are working. In a report released in August 2019, the Governor's "Raise the Age" Implementation Task Force states there have been large declines in youth arrests, arraignments, detention, and sentencing.
Issues With "Raise the Age" Reforms
As discussed in our recent blog, there are issues with the new changes. One concern is that there is still wide discretion given to prosecutors on how juvenile offender cases are handled. Many cases involving young defendants may still be prosecuted in criminal court – particularly where a weapon was used, someone was injured, a sexual offense occurred, and in "exceptional circumstances." Yet the statute does not define what those "exceptional circumstances" may be.
Further, 14- and 15-year-olds can still be prosecuted as adults for certain crimes, including burglary – a common offense charged against minors. Some attorneys also indicate the youth parts are overburdened. Some kids experience long waits between arrest and arraignment. And sometimes, they don't get an opportunity to speak privately with their lawyers.
There are also fiscal issues with New York's "Raise the Age" changes. Many counties will have to create new youth facilities. They will also have to hire new staff, including probation officers and counselors. And some youth facilities may just be prisons with a different label. It's unclear if all the youth facilities are providing the appropriate rehabilitation, counseling, and education.
References: