April is Distracted Driving Awareness Month
April 11, 2022
April marks Distracted Driving Awareness Month across the U.S. And in New York, law enforcement ran a targeted initiative over the past week. Indeed, the state prides itself on being the first state in the nation to prohibit cell phone use while driving. In this week's blog, we discuss what it means to drive while distracted and the stats on its prevalence.
What Is Distracted Driving?
Simply put, driving while distracted is anything that takes a driver's attention away from the road. Specifically, there are three types of distractions:
Physical – when a driver takes their hands off the wheel
Visual – when a driver looks at a passenger or the navigation screen
Cognitive – when a driver is lost or deep in thought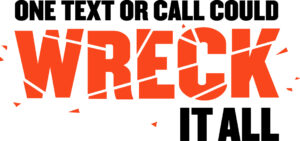 The most common example is using a cell phone while driving. This includes holding the phone, texting, or using any of a phone's apps. However, it could also include several other things. For example, it could be adjusting the heating or cooling system, or looking down at the coffee that dripped onto your seat. Moreover, it can include looking at a navigation system or switching the radio station. In some cases, it can be having a conversation with the passenger in your car.
Distracted Driving Statistics
During New York's 2021 campaign, of the 34,654 tickets issued for vehicle and traffic law violations, 1,671 of those were for distracted driving.
According to the experts, distracted driving is a leading factor in motor vehicle crashes. The crashes, injuries, and deaths are preventable if drivers were less distracted. As such, drivers must keep their eyes and attention on the road at all times while driving.
Cell Phone Use is Distracted Driving
As stated above, cell phone use is the most common form of distracted driving. In New York, a conviction for cell phone use while driving will result in a 5-point violation and fines of up to $450 plus surcharges.
To put it into perspective, think of this. If a driver is texting while driving, and they're going 55mph, they can travel 100 yards before looking up from their phone. That's the length of a football field.
In the U.S., it is estimated that at any given moment approximately 660,000 drivers are using electronic devices while driving. In 2018, there were 2,841 people killed and an estimated 400,000 injured in motor vehicle crashes involving distracted drivers. For young drivers aged 15 to 19, they have the largest proportion of drivers who were distracted at the time of the fatal crashes.
References:
Image: CC0 1.0 Universal (CC0 1.0) Public Domain Dedication
Additional Materials: https://www.trafficsafetymarketing.gov/get-materials/distracted-driving