Hate Crimes Against the LGBTQ+ Community
June 1, 2022
June is LGBTQ+ Pride Month. While we've previously blogged about hate crimes in New York, Pride Month is a good time to highlight that the LGBTQ+ community is particularly vulnerable to such crimes. In this blog, we discuss the statistics and what the state does to protect LGBTQ+ New Yorkers.
LGBTQ+ Hate Crime Statistics
Those who are in the LGBTQ+ community, and particularly trans persons of color, are acutely vulnerable to hate crimes. According to FBI statistics, of all the hate crimes reported in 2020, 22.7% of victims were targeted because of their sexual orientation or gender identity. That's more than 1 in 5 of all hate crime victims.
Compared with 2019, while crimes based on sexual-orientation bias went down in 2020, they increased in 2020 relating to gender identity bias. In 2020, 1,110 victims targeted due to sexual-orientation bias. For those 266 persons who were victims of gender identity bias, this includes transgender bias and gender non-conforming bias.
Note, however, not all crimes against the LGBTQ+ community are reported as hate crimes by official sources. In New York, the Anti-Violence Project (https://avp.org/) works to gather the data on such crimes. Because this data is gathered from LGBTQ+ anti-violence programs rather than from law enforcement agencies, it differs from data from the FBI or the state.
How New York Protects the LGBTQ+ Community
Under New York's state law, a hate crime occurs when the perpetrator intentionally selects someone to commit a crime against because of a belief or perception relating to the victim's race, color, national origin, ancestry, gender, religion, religious practice, age, disability, or sexual orientation.
New York also goes beyond punishing hate crimes against the LGBTQ+ population. The state's Human Rights Law prohibits discrimination based upon protected characteristics in:
employment,
apprenticeship and training,
purchase and rental of housing and commercial space,
places of public accommodation,
certain educational institutions, and
credit transactions.
Specifically, the Human Rights Law protects against discrimination in these areas based on sexual orientation, gender identity, transgender status, or gender dysphoria. Additionally, New York City has its own Human Rights Law for those in the city.
Moreover, in addition to the state's hate crimes task force, the state's 2023 budget included additional funding to support the LGBTQ+ community. The budget also doubled the annual funding for LGBTQ+ Health and Human Services.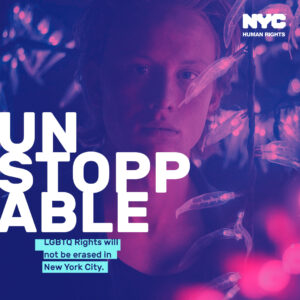 References:
Image: CC0 1.0 Universal (CC0 1.0) Public Domain Dedication