Strangulation and Obstruction of Breathing Offenses in New York
September 28, 2022
When two people get into an argument, sometimes it can get heated. And when an argument gets heated, it can get physical. In addition to an assault, strangulation can occur. In New York, obstructing a person's breathing can result in criminal charges.
What Is Strangulation?
In New York, it is illegal to apply pressure to a person's throat or neck, or to cover a person's nose or mouth, with the intent to impede their breathing or blood flow. If a person is injured as a result, this will also affect the seriousness of the offense.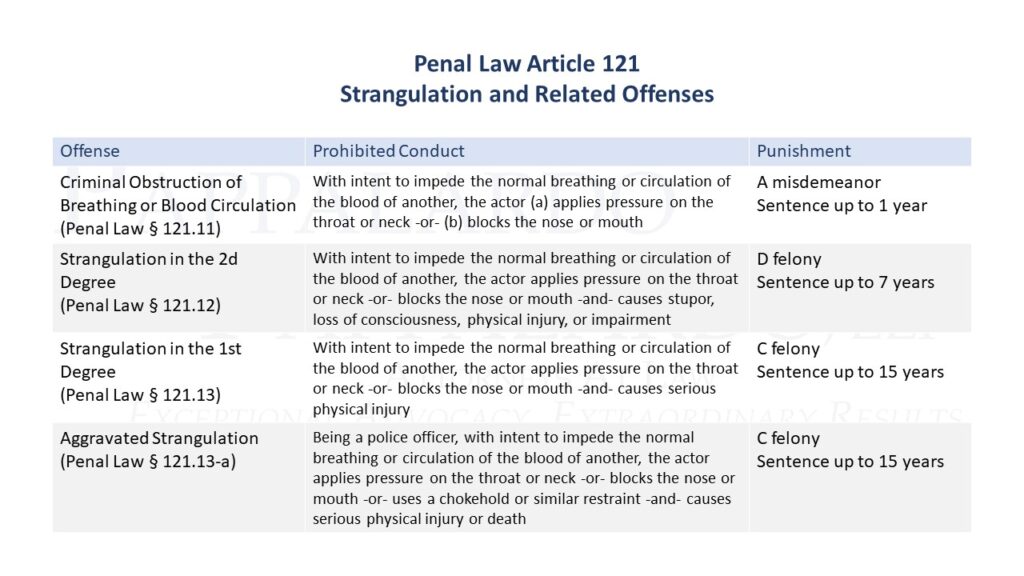 While each charges is punishable by incarceration, alternative sentences can be negotiated. This can include probation, or a "split sentence" of jail and probation. In some cases, counseling or treatment rather than jail or probation may be warranted.
Additional Consequences of Strangulation Charges
As set forth above, strangulation offenses can result in lengthy period of incarceration. Moreover, bail can be set on violent felony offenses. Where bail is set, a person may spend months in jail pending a disposition – whether it be a plea or trial.
There will also be Orders of Protection issued in favor of the victim. Regardless of the nature of the accusation, when an Order of Protection is issued a person must surrender all firearms and can be subject to proceedings to revoke any gun permits.
Even in cases where there is no conviction, just an arrest for such an offense can result in serious consequences when it comes to employment. Additionally, for non-citizens an arrest or conviction can impact their immigration status.
Strangulation and Domestic Violence
When a strangulation involves domestic violence, this is often taken much more seriously. Unfortunately, such is common in abusive relationships. Studies have found that between 30% and 68% of women in abusive relationships are strangled during the course of the relationship.
Indeed, other studies have found that the full consequences of strangling injuries may not be visible or noticeable for days after the incident. For some, there are progressive and irreversible effects of strangulation. Additionally, some studies have found that in domestic violence situations, where a person has previously been strangled they are 10 times more likely to die in a second strangulation incident.
References:
Image: CC0 1.0 Universal (CC0 1.0) Public Domain Dedication